Seattle Sunstream V-Lift™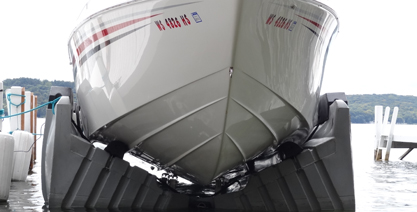 Sunstream's revolutionary V-Lift™ is the world's most consumer and marina friendly high-speed, portable, free-floating air displacement boat lift.
The latest addition to Sunstream's range of innovative high-speed boat lifts, the revolutionary V-Lift is designed to be the next generation of air-displacement boat lifts and greatly expand the use of lifts by offering a more practical, leak resistant, higher performance and more affordable solution for most sport, ski, pontoon and fishing boats.
Sunstream V-Lift™ Features
Operate in as little as 3 feet of water
Fits into a 10-foot wide slip
Can be side tied
Long-term Durability: Corrosion-proof Polyethylene Construction
Compact, Marina friendly styling
Can be expanded to accommodate 7,000 - 11,000 pound vessels
Hose free construction
Dock-side powerpack not required
Unparalleled portability
Availability
This innovative boat lift is available now. For more information, contact O'Ryan Marine, an Authorized Sunstream dealer and installation specialist.
Sunstream VLift™ Details
Complementing Sunstream's signature dock-with-ease design, the new Sunstream lift provides automatic centering and secure drive-on support to simplify the air-displacement lift user experience.
The V-Lift's level lifting and launching does not require securing the boat to the lift. The V-Lift also provides the highest level of security and peace of mind with four independent air tanks, and a Tank Monitoring System (TMS) that automatically fills the air tanks if a leak is detected.
The V-Lift makes boat lifts practical for for most boaters due to its portability, versatility, performance, durability and price. The remote control and high-speed operation also make it the most fun and convenient air-displacement lift on the market.
Sunstream V-Lift™ Video