Seattle Mobile Boat Detailing Services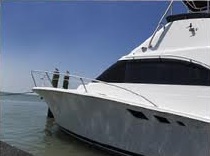 Have your boat looking and performing at it's best with O'Ryan Marine's Signature Boat Cleaning & Detailing Services!
Detailing your boat is as much about looking good as it is about maintenance and preventing irreversible damage or fading to the gel-coat. Keep your boat in ship-shape condition, and impress your guests. We put exceptional detail into each cleaning to ensure your absolute satisfaction.
Got Pests?
Eliminate annoyances and hassles caused by birds and marine animals. O'Ryan Marine not only cleans boats and decks, but prevents these little "problems" from re-ocurring as well!
Canadian Geese
Seagulls
Otters
How do we do it? Put us to the test and see for yourself! We can also help with your waterfront milfoil and aquatic weeds as well.
Detailing Services
Cleaning
Detailing
Dockside Boat Wash at your Home
Full Exterior Detail: Compound, Buff, Polish & Wax
Full Interior Detail: Upholstery, Carpet & Boat Cover
Fiberglass Repair
Paint & Gel-coat Repair
Bottom Cleaning
More...
Detailing Testimonial
O'Ryan Marine's Signature Detailing Service is amazing! They paid very close attention to every detail. The engine purrs like a contented kitten and is ready for a great fun-filled and trouble-free boating season.
Plus, I have never gotten my boat this clean. They eliminated the winter mung as well as treated it to stop mildew and other nasties. They also know how to keep the mess from geese off the boat and the dock. Amazing!