Seattle Sunstream SunPort2™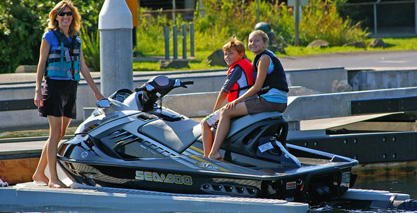 The SunPort2™ is the latest boat lift innovation engineered by Sunstream Boat Lifts and is the ideal PWC lift.
The SunPort2™ is safe and easy for the entire family and it's unique design captures elements desired by PWC enthusiasts worldwide.
Sunstream SunPort2™ Features
Family-friendly, easy operation
Easy loading and unloading
Reduced slope for minimal throttle during boarding
Replaceable bow stop
Unsinkable foam-filled structure
Innovative design & hinged tail
Great for new and younger boaters
Availability
For more information, contact O'Ryan Marine, an Authorized Sunstream dealer and installation specialist.
Sunstream SunPort2™ Details
Ease of Use
Easy loading and unloading for everyone! The unique hinged tail drops to gently guide you in, reducing the slope and requiring less throttle to board the lift. Plus, dual row rollers balance the load and prevent side tipping once on the lift.
Safe & Unsinkable
The replaceable bow stop is designed to prevent the watercraft from driving over the top of the lift, allowing even the most novice PWC driver to safely board the lift unattended.
In addition, the walkways on either side of the lift are textured to provide an anti-slip surface for maintenance and boarding. Just like the FloatLift™, the SunPort2™ structure is foam-filled and virtually unsinkable. This structure also ensures that your PWC will be safe and secure even while you're away from the dock, providing a dry storage solution that will last for years to come.
Sunstream SunPort2™ Video