Seattle Sunstream FloatLift™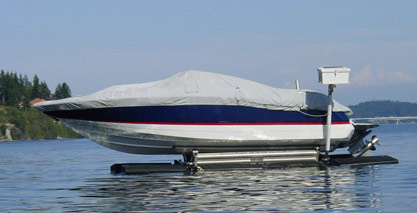 The FloatLift is the leading floating hydraulic boat lift worldwide. It has set a higher standard with incredible speed, unsinkable floats, remote-control, and solar charging.
As easy to use as "taking the car out of the garage" means you'll use your boat more often! Featuring 30 seconds from floating to boating!
Sunstream FloatLift™ Features
Unsinkable Floats
GravityLock: prevents accidental lowering
Portable & Versatile
Tie up to any dock or mooring
Hydraulics battery charged by solar or AC power
Usable in as little as 3 feet of water
Innovative, Automatic Adjusting Height Canopy
Fresh or Salt Water Use
Remote control operation
Availability
For more information, contact O'Ryan Marine, an Authorized Sunstream dealer and installation specialist.
Sunstream FloatLift™ Details
Ease of use
Operating the quiet, high-speed hydraulics with the remote control from the helm of the boat provides ultimate convenience and safety. The FloatLift™ launches in seconds instead of minutes.
Peace of Mind
The FloatLift's™unsinkable floats, and GravityLock; over-center design prevents the boat from accidentally lowering.
Portable & Versatile
Just tie the FloatLift™to a dock or a mooring. The hydraulics run off a battery charged by solar or AC power. The revolutionary design allows for use in shallow water.
Cover/Canopy Option
Reduce your maintenance ever further by adding a HoverCover to the FloatLift™. The HoverCover fits tightly to the boat by lowering as the boat rises.
Sunstream FloatLift™ Video